Blogging has been light of late- not only have I been dipping into Second Life, but also had my head buried in a book.

Not just any book, mind you. This is a coffee table book Par Excellence about my favourite topic- old theatres. It is called Saving the Gaiety and is all about the delightful little gem on the Isle of Man, the Gaiety Theatre on the sea front in Douglas. It is written by Mervyn Stokes, the most enthusiastic man on the planet for the Theatre.

The piece de resistance of the theatre is the auditorium ceiling which also includes a central stained glass rose light, shown above. The photo below (from the site of the decorative plasterers) puts it into context and a more sumptuous interior would be hard to find outside of a Royal Palace.


There is more to a Theatre, however, than just the interior fantasy world of rococo fibrous plaster. It is also a dream factory and has a full set of Victorian theatre equipment, much of it salvaged and restored by Dr. David Wilmore from other theatres contemporary to the Gaiety (opened in 1900) or even earlier.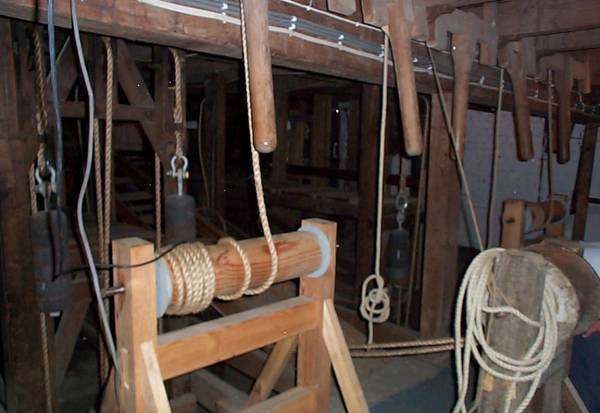 It also has the only working Corsican Trap in the world, (click here to read about it and see a video.)

In 2000, I attended a Frank Matcham Conference organised by the Matcham Society in Douglas, arranged to tie in with the Gaiety Centenary. David was only a toddler then, so he spent most of the time with Karen on the beach at port Erin, whilst I attended fascinating presentations about life in an architectural practice, the skills of decorative plasterwork and how to conserve the past. It culminated an a fascinating tour of the Gaiety where John Earl, former Director of the Theatres Trust, was given the opportunity to try out the Corsican Trap. (Although it never happened, as it would have been against elfensafety, wink wink.) Mervyn also proudly showed us his most recent acquisition, the original 1911 Vanity Fair Matcham cartoon, immediately recognisable to Matcham lovers everywhere. I believe that it belongs to Mervyn but is on loan to the theatre.

Anyway, we hope to return to the Island next summer, we have found a great holiday cottage (that even features wireless broadband!) and I owe Mervyn a Pint. I just hope they have some decent shows on next year, the programme for this summer looks a little thin.

(If you want to see more of the Gaiety, there are great 360 degree views here.)